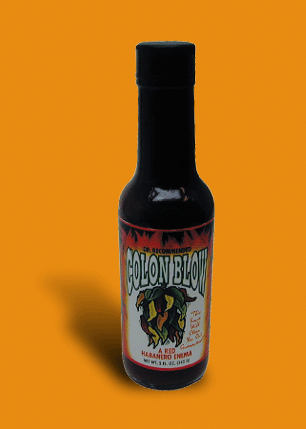 Colon Blow Hot Sauce HL-10
Colon Blow- Warning: Just what the doctor ordered. A red habanero enema – "Guaranteed this sauce will clean you out." Use with extreme caution – It comes out hotter than it goes in!! Pepper extract.
Ingredients: Red Habanero, Tomato Sauce, Hot Pepper extract, Onions, Red Chiles, Garlic, Cane vinegar, Vegetable Oil, Xanthan Gum and Spices
Shipping: Added at checkout.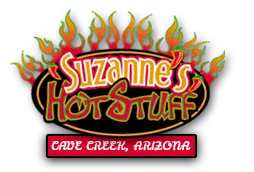 6245 East. Cave Creek Rd.
Cave Creek, Arizona 85331
WE DO NOT SHIP OUTSIDE THE UNITED STATES.
Orders placed from Canada, Mexico, or other countries will not be shipped and will be refunded.
P. O. Box 1850
Cave Creek, AZ 85327
| | |
| --- | --- |
| Monday | 10:00 a.m. - 3:00 p.m. |
| Tuesday   | Closed |
| Wednesday | 10:00 a.m. - 3:00 p.m. |
| Thursday | 10:00 a.m. - 3:00 p.m. |
| Friday | 10:00 a.m. - 3:00 p.m. |
| Saturday | 10:00 a.m. - 3:00 p.m. |
| Sunday | 10:00 a.m. - 3:00 p.m. |
Copyright ©2023 Suzanne's Hot Stuff