WARNING!! This site may not be suitable for children under the age of 17.
Welcome to the hottest place on earth "Suzanne's Hot Stuff" in Cave Creek, Arizona.
We've Got The Hots For You.
I'm Suzanne for those of you who have been into my hot sauce novelty store, WELCOME!
If you have not been in to my hot sauce novelty store, where "WE'VE GOT THE HOTS FOR YOU" Welcome and come on in.
Unlike other websites selling novelty hot sauce, we are among the few who work out of a physical location. So next time you are in Arizona and looking for that unique gift to take home with you please, COME SEE US.
Suzanne's Hot Stuff guarantees your order 100%. Even if you don't like it, we'll give you your money back! We want you to be satisfied with every order you place with us.
We prefer you visit our store to learn about the sauces we offer. Our physical location has many more options than what we offer on this site.
We offer many different hot sauces with varying level of heat index, well at least from scorching hot to toxic. We'd like to think there is a hot sauce for everyone.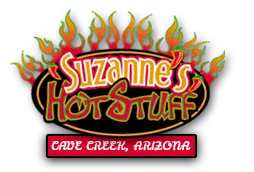 6245 East. Cave Creek Rd.
Cave Creek, Arizona 85331
WE DO NOT SHIP OUTSIDE THE UNITED STATES.
Orders placed from Canada, Mexico, or other countries will not be shipped and will be refunded.
P. O. Box 1850
Cave Creek, AZ 85327
| | |
| --- | --- |
| Monday | 10:00 a.m. - 3:00 p.m. |
| Tuesday   | Closed |
| Wednesday | 10:00 a.m. - 3:00 p.m. |
| Thursday | 10:00 a.m. - 3:00 p.m. |
| Friday | 10:00 a.m. - 3:00 p.m. |
| Saturday | 10:00 a.m. - 3:00 p.m. |
| Sunday | 10:00 a.m. - 3:00 p.m. |
Copyright ©2023 Suzanne's Hot Stuff