TOXIC – 10++, 10+++, 10++++
Extremely Hot!
When using any sauces marked 10+ to 10++++ use extreme caution Each item uses concentrated pepper extract, and is hotter than any sauce could be using peppers alone. Generally used to spice up a sauce, soup, or any dish you wish not to taste.
Keep away from children and pets. May cause blistering
Most will be accompanied by a waiver.

ALMOST TOXIC Hot Sauces 8,9
Very Hot!
The hottest you can get by using peppers alone. Generally, using the Habanero Pepper or the Red Savina which is the blistering variety of Habanero family.

Pretty Damn Hot!
The title pretty much will explain this category. Great Level if you like it hot and still be able to taste food the next day. Here you will find a mix of habeneros and jalapenos.

Hot!
Great sauce to spice up your chili or chicken wing receipe. Great taste without killing off your taste buds. Mostly jalapenos and chipotle mixed in for the roasted flavor.

Spicy Ketchup!
Some in this category also come with their very own nipples. Yes don't revert to this level at the super bowl party, unless your with cheerleaders. Here you will find mainly BBQ sauces and very mild salsas.
No Wussy Sauces Currently Available.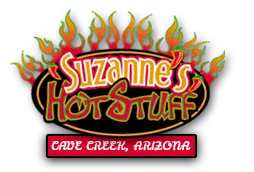 6245 East. Cave Creek Rd.
Cave Creek, Arizona 85331
WE DO NOT SHIP OUTSIDE THE UNITED STATES.
Orders placed from Canada, Mexico, or other countries will not be shipped and will be refunded.
P. O. Box 1850
Cave Creek, AZ 85327
| | |
| --- | --- |
| Monday | 10:00 a.m. - 3:00 p.m. |
| Tuesday   | Closed |
| Wednesday | 10:00 a.m. - 3:00 p.m. |
| Thursday | 10:00 a.m. - 3:00 p.m. |
| Friday | 10:00 a.m. - 3:00 p.m. |
| Saturday | 10:00 a.m. - 3:00 p.m. |
| Sunday | 10:00 a.m. - 3:00 p.m. |
Copyright ©2023 Suzanne's Hot Stuff