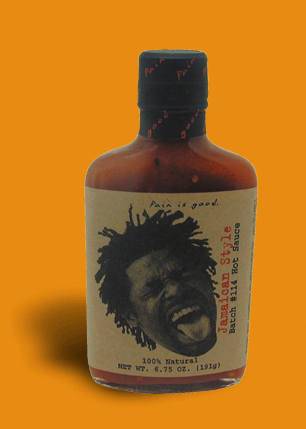 Pain is Good – Batch #114 Jamaican Style Hot Sauce HL-9
In the jungles of Jamaica, far from the soft, white beaches and luxury resorts, there's a small shack with a small garden. In the garden, Scotch Bonnet and habanero peppers are grown. In the shack, jerk sauce is made with them. In the mouths of those who eat it, a strange voodoo begins to take hold, consuming the body, mind, and soul in this fiery hypnotic euphoria. In this bottle is this sauce. In this world, there is no sensation quite like it. Pain is good!
Ingredients: Tomato paste, pineapple juice concentrate, garlic puree, lime juice concentrate, jerk seasoning
Shipping: Added at checkout.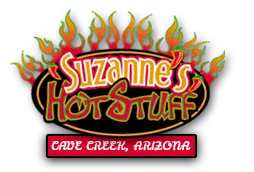 6245 East. Cave Creek Rd.
Cave Creek, Arizona 85331
WE DO NOT SHIP OUTSIDE THE UNITED STATES.
Orders placed from Canada, Mexico, or other countries will not be shipped and will be refunded.
P. O. Box 1850
Cave Creek, AZ 85327
| | |
| --- | --- |
| Monday | 10:00 a.m. - 3:00 p.m. |
| Tuesday   | Closed |
| Wednesday | 10:00 a.m. - 3:00 p.m. |
| Thursday | 10:00 a.m. - 3:00 p.m. |
| Friday | 10:00 a.m. - 3:00 p.m. |
| Saturday | 10:00 a.m. - 3:00 p.m. |
| Sunday | 10:00 a.m. - 3:00 p.m. |
Copyright ©2023 Suzanne's Hot Stuff