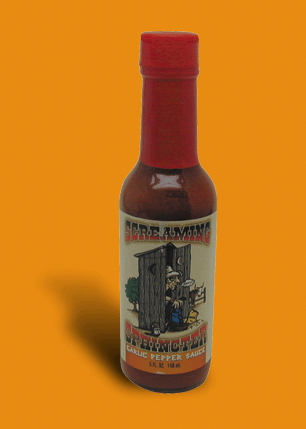 Screaming Sphincter Garlic Pepper Sauce HL-7
The sphincter is an annular muscle surrounding and able to contract or close the anus. The label reads, "Weez gessin' it alls startud when gra'ma wuz in tha outhouse, yellin', cussin', and bangin' round sumthun feerce. Shur nuff, earlier she'd gottin' inta a new batch of sauce weez jus' brewed up. Und that's where tha name cums from, cuz her 'ole sphincter wuz on fire, und she shur was scremin'!" – Cayenne pepper, garlic, great label.
Ingredients: Cayenne pepper, garlic
Shipping: Added at checkout.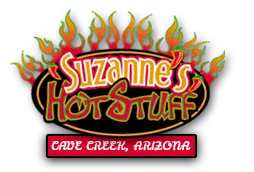 6245 East. Cave Creek Rd.
Cave Creek, Arizona 85331
WE DO NOT SHIP OUTSIDE THE UNITED STATES.
Orders placed from Canada, Mexico, or other countries will not be shipped and will be refunded.
P. O. Box 1850
Cave Creek, AZ 85327
| | |
| --- | --- |
| Monday | 10:00 a.m. - 3:00 p.m. |
| Tuesday   | Closed |
| Wednesday | 10:00 a.m. - 3:00 p.m. |
| Thursday | 10:00 a.m. - 3:00 p.m. |
| Friday | 10:00 a.m. - 3:00 p.m. |
| Saturday | 10:00 a.m. - 3:00 p.m. |
| Sunday | 10:00 a.m. - 3:00 p.m. |
Copyright ©2023 Suzanne's Hot Stuff