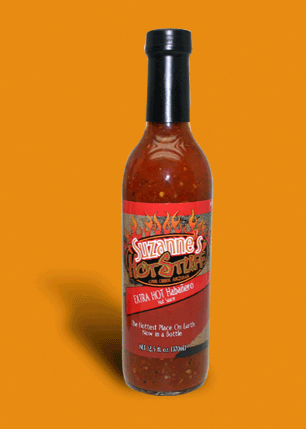 Suzanne's Hot Stuff Extra-Hot Habanero Sauce HL-9
Suzanne's Extra Hot Habanero Hot Sauce boasts only the freshest ingredients! Fresh Tomatoes, Onions and an extra dose of Habanero heat in a special blend to bring out the flavor of your foods with that little extra zing for those of you that are "Hungry for Heat".
Ingredients: Habanero chiles, onion, spices
Shipping: Added at checkout.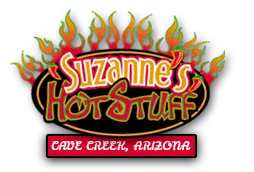 6245 East. Cave Creek Rd.
Cave Creek, Arizona 85331
WE DO NOT SHIP OUTSIDE THE UNITED STATES.
Orders placed from Canada, Mexico, or other countries will not be shipped and will be refunded.
P. O. Box 1850
Cave Creek, AZ 85327
| | |
| --- | --- |
| Monday | 10:00 a.m. - 3:00 p.m. |
| Tuesday   | Closed |
| Wednesday | 10:00 a.m. - 3:00 p.m. |
| Thursday | 10:00 a.m. - 3:00 p.m. |
| Friday | 10:00 a.m. - 3:00 p.m. |
| Saturday | 10:00 a.m. - 3:00 p.m. |
| Sunday | 10:00 a.m. - 3:00 p.m. |
Copyright ©2023 Suzanne's Hot Stuff